Mazda 3 -2021 are some notable features and updates :
New Turbocharged Engine: Mazda introduced a new turbocharged engine option for the 2Mazda 3 -2021. This engine is a 2.5-liter turbocharged four-cylinder that produces significantly more horsepower and torque compared to the base engine, providing a sportier driving experience.
Optional All-Wheel Drive: In addition to front-wheel drive, the Mazda 3 -2021 offers an optional all-wheel-drive (AWD) system. AWD enhances traction and stability, especially in adverse weather conditions.
Redesigned Interior: The interior of the Mazda 3 received some updates in terms of materials and design, giving it a more upscale and premium feel. Features like available leather seats and a larger infotainment screen contribute to this improvement.
Updated Infotainment System: Mazda introduced an 8.8-inch infotainment display with the Mazda 3 -2021. It comes with the latest version of Mazda Connect, which includes Apple CarPlay and Android Auto compatibility.
Driver Assistance and Safety Features: The Mazda 3 -2021 comes equipped with a suite of advanced driver assistance features, including adaptive cruise control, lane departure warning, lane keep assist, blind-spot monitoring, and more. These features vary depending on the trim level.
Exterior Styling Tweaks: There were some minor changes to the exterior styling, with updates to the front grille and available LED headlights and taillights.
Improved Noise Insulation: Mazda made efforts to reduce road noise and improve cabin insulation, resulting in a quieter and more comfortable ride.
New Trim Levels: The Mazda 3 -2021 was available in several trim levels, including the base sedan and hatchback, Select, Preferred, Premium, and the new Turbo models.
Available Premium Bose Sound System: Higher trim levels offered a premium Bose audio system for enhanced sound quality.
Manual Transmission Option: Enthusiasts could still opt for a manual transmission with the Mazda 3, but it was typically available in lower trim levels.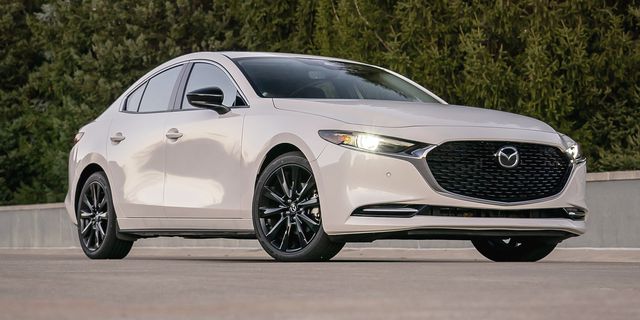 Please keep in mind that specific features and options may vary depending on the trim level and market. For the most up-to-date and detailed information on the Mazda 3 -2021, I recommend visiting the official Mazda website or contacting a Mazda dealership.
Models of Mazda 3
Mazda 3-2019 – 2020 – 2021 – 2022 – 2023
News